Research Priorities
The Office of AIDS Research (OAR) establishes HIV/AIDS research priorities for the National Institutes of Health (NIH). These research priorities are based on current data about the pandemic and the science to prevent, treat, and ultimately cure HIV. OAR partners with stakeholders such as the scientific community, people with HIV, and nongovernmental groups focused on HIV to develop the priorities.
These research priorities outline the NIH's broad HIV/AIDS research agenda, guide decision-making processes related to HIV funding, and inform the development of the NIH Strategic Plan for HIV and HIV-Related Research:
The following graphic provides additional detail about each priority area and illustrates how the research priorities are interrelated and how they overlap.
NIH Priorities for HIV and HIV-Related Research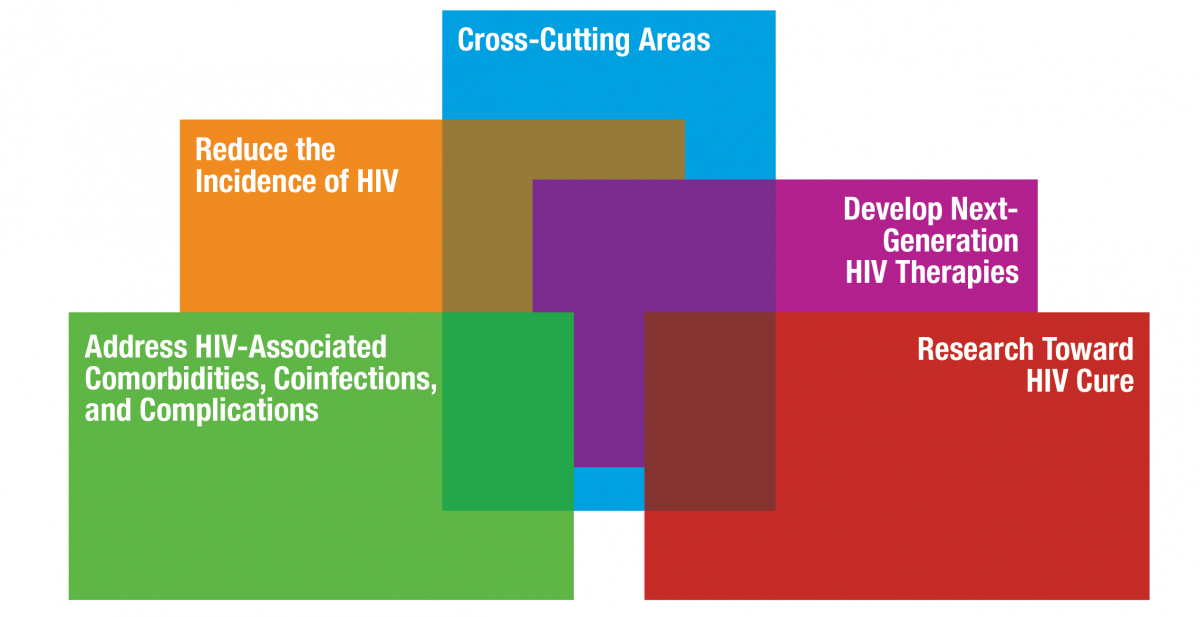 Basic Virology and Immunology
Behavioral and Social Sciences 
Epidemiology
Health Disparities
Information Dissemination
Implementation Science
Research Training, Infrastructure, and Capacity Building

 

Vaccines
Pre-exposure Prophylaxis
Microbicides and MPTs
HIV Testing
Treatment as Prevention
Monoclonal Antibodies

 

Less Toxic and Longer Lasting ART
Novel HIV Targets & Inhibitors
Novel Immune-Based Therapies
Engagement, Adherence, and Retention in Care

 

Coinfections
Neurologic Complications
Malignancies
Cardiovascular Complications
Mental Illness and Substance Use
Metabolic Disorders
Across the Lifespan

 

Sustained ART-free Viral Remission
Viral Eradication
Viral Latency and Sanctuaries
Cure Ethics and Acceptability
NIH HIV/AIDS Research Priorities and Guidelines for Determining AIDS Funding
This page last reviewed on August 3, 2023