Welcome to OAR
The Office of AIDS Research (OAR) coordinates HIV/AIDS research across the National Institutes of Health (NIH).The NIH provides the largest public investment in HIV/AIDS research globally.
As HIV crosses nearly every area of medicine and scientific investigation, the response to the HIV pandemic requires a multi-Institute, multidisciplinary, global research program. OAR provides scientific coordination and management of this research program.
OAR Spotlight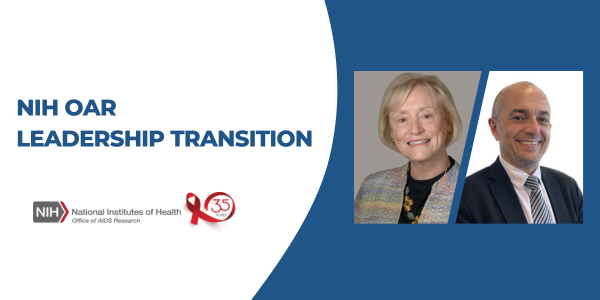 On March 26, 2023, Maureen M. Goodenow, Ph.D., who skillfully led OAR for nearly seven years, transitioned to a new role at NIH. Bill G. Kapogiannis, M.D., an NIH leader in HIV research for nearly 18 years, is currently serving as Acting Director of OAR while NIH conducts a nationwide search for a new director. Read more.
This page last reviewed on March 31, 2023