October 2023 NIH Office of AIDS Research Advisory Council Meeting
Health disparities research, syndemic models, intersectionality, and social determinants of health
November 13, 2023
The National Institutes of Health (NIH) Office of AIDS Research Advisory Council (OARAC) convened its 64th meeting virtually on October 26. In addition to this summary, the meeting video is available here, and minutes will be available on the OARAC page of the OAR website.
OARAC provides advice to the NIH Office of AIDS Research (OAR) on the planning, coordination, and evaluation of research and other HIV/AIDS activities conducted or supported by NIH.
Meeting highlights included a report from OAR Acting Director Bill G. Kapogiannis, M.D., a series of presentations and a panel discussion on HIV and health disparities, and a preview of forthcoming updates to HIV clinical practice guidelines.
Report From the Acting Director of OAR
Dr. Kapogiannis provided opening remarks that framed the meeting's focus on health disparities. He reflected that research advances in preventing and treating HIV are among the most significant accomplishments in science and public health, but data show that this progress is not benefitting everyone equally.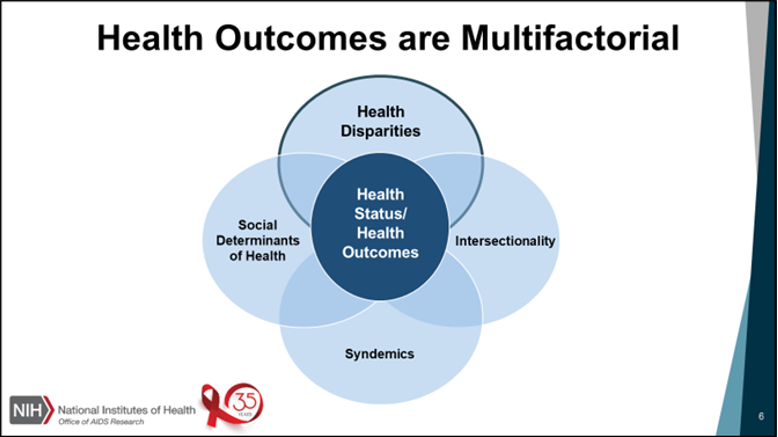 Dr. Kapogiannis reflected that continued progress in advancing the HIV pandemic is dependent upon simultaneously addressing the biomedical, behavioral, and social science aspects of health disparities.
Dr. Kapogiannis presented data on staggering HIV-related health disparities that exist by minoritized racial, ethnic, and sexual and gender populations in the United States. In 2021, approximately The majority of new HIV diagnoses occur among men who have sex with men (MSM); Black/African American MSM comprise the population most affected by HIV.
"To continue to make progress in addressing the HIV pandemic," he said, "we must design strategies that address the multifactorial nature of health outcomes—and to counteract a significant number of detrimental and mutually interacting factors, such as health disparities, social determinants of health, intersectionality, and syndemics."
Highlights of the Acting OAR Director report included:
The recent NIH announcement that "people with disabilities" is now an officially designated population experiencing health disparities, which has implications for NIH-supported research.
An update on NIH contributions to the Ending the HIV Epidemic in the U.S. (EHE) initiative, including research that supports priority populations and four focal areas that received funding in fiscal year 2023: syndemic approaches, leveraging pharmacies, post-incarceration linkage to care, and cluster detection response.
Updates on key OAR activities over the past several months, including recent NIH HIV and aging events, and a meeting on innovations in pharmacy-centered HIV research.
Reminder of the NIH World AIDS Day virtual event on December 1. Details will be available on the OAR website.
Dr. Kapogiannis honored the legacy of Dr. Stephaun E. Wallace, Director of External Relations of the Fred Hutchinson Cancer Center's HIV Vaccine Trails Network (HVTN), who passed away on August 5, 2023. Dr. Wallace also held faculty appointments at the Fred Hutchinson Cancer Center, the University of Washington, and Yale University as a staff scientist, clinical assistant professor, and affiliate professor, respectively. He was a research epidemiologist and public health and social justice leader who worked to increase positive health outcomes among members of minoritized racial and ethnic groups and sexual and gender minority populations in the United States and internationally. "We honor his life ," Dr. Kapogiannis said, "as we focus on those persistent challenges."
HIV and Health Disparities
Eliseo J. Pérez-Stable, M.D., Director, National Institute on Minority Health and Health Disparities (NIMHD), NIH
LaRon Nelson, Ph.D., RN, FNP, FNAP, FNYAM, FAAN, Associate Dean for Global Affairs & Planetary Health, Independence Foundation Professor of Nursing, Yale University
Gabriel Maldonado, M.B.A., Chief Executive Officer, TruEvolution, Inc.
Dr. Pérez-Stable gave a detailed presentation on the health impacts of disparities and inequities, noting that addressing these issues in HIV prevention and care would end the HIV epidemic. He highlighted racial, ethnic, and socioeconomic factors that perpetuate disparities in chronic disease and life expectancy and lead to excess economic burden. His presentation reviewed NIMHD research priorities, the health disparities research framework, and a discussion of racism and racial inequity as a research construct across interpersonal, structural, internalized, and social factors that harm health. Dr. Pérez-Stable presented practices that mitigate the detrimental health effects of racism, such as supportive parenting, integration, social cohesion, and cultural competences, and discussed the importance of community-engaged research. He also outlined future directions for health disparities research, highlighting multilevel interventions, intersectionality, and strategies to improve trust. 
Dr. Nelson shared a critical analysis of a position that normative "status quo" research methodologies have led to patterns of inequality and reinforced blind spots; he posited that revolutionary research approaches are needed to disrupt this cycle . Critical strategies to tackle inequities include advancing research in market behavior and sociopolitical systems beyond individual health behavior, and advancing agile and multilevel HIV intervention research. Dr. Nelson discussed the importance of developing novel methodologies, including study design and statistical methods incentivizing collaboration, and investing in infrastructure to expand diversity among HIV researchers.
Mr. Maldonado gave a detailed overview of the impactful health and social programs that TruEvolution, Inc. provides in southern California, that aim to reduce barriers to access and enable comprehensive care while building self-determination. He highlighted Project Legacy's transitional housing program, that helps support people living with HIV and improve their quality of life, which serves as a nexus to all service delivery. Mr. Maldonado's primary recommendation to OARAC was to "bring science to the people" by enabling more transparency, building community-based research initiatives, furthering implementation research, and reducing historic federal silos.
Panel Discussion: Integrating Syndemic Models in HIV Health Disparities Research
Moderators: Bill Kapogiannis, M.D., and RDML Timothy Holtz, M.D., M.P.H.
Courtney Aklin, Ph.D., Deputy Director, National Institute of Nursing Research (NINR), NIH
Christopher Barnhart, Ph.D., Health Science Policy Analyst, Sexual & Gender Minority Research Office (SGMRO), NIH
Kendall J. Bryant, Ph.D., Director, HIV/AIDS Research, National Institute on Alcohol Abuse and Alcoholism (NIAAA), NIH
Redonna K. Chandler, Ph.D., Director, HIV Research Program, HEALing Communities Study, National Institute on Drug Abuse (NIDA), NIH
Eliseo J. Pérez-Stable, M.D., Director, National Institute on Minority Health and Health Disparities (NIMHD), NIH
Dianne M. Rausch, Ph.D., Director, Division of AIDS Research (DAR), National Institute of Mental Health (NIMH), NIH
Karina Walters, Ph.D., M.S.W., Director, Tribal Health Research Office (THRO), NIH
Key highlights of the panel discussion:
Inclusive research approaches—such as community-engaged research, implementation science, and standardized measures—when integrated in HIV research, are most likely to yield results with a direct impact on health outcomes in minoritized populations.
Interventional studies that address specific drivers or determinants—such as social connectedness, alcohol or substance use disorders (SUD), or depression or anxiety—might have a greater impact on HIV health outcomes.
NIH Institutes, Centers, and Offices (ICOs) are incorporating syndemic approaches in research at the intersection of SUD, mental health, other health conditions, and HIV with studies that integrate HIV care and SUD treatment, as well as the impact of climate change on HIV-related disparities.
Next steps and best practices to advance intersectionality research include increased support for basic behavioral and social science research aimed at improving HIV outcomes, as well as implementation research of evidence-based interventions, with special attention on priority populations and community involvement in all stages of the research process.
Methods, interventions, and approaches—such as respondent-driven sampling, culturally-derived interventions, qualitative and mixed-methods research, and community-based research—may help reach populations that are disproportionately affected, such as LGBTQI+ and American Indian and Alaska Native populations.
NIH ICOs can foster community-based HIV research by encouraging community members to drive research questions and adapt evidence-based interventions and prevention strategies for their local community.
NIH ICOs can encourage research to specifically investigate social determinants of health (SDOH)—such as food and housing insecurity among minoritized populations, as well as efforts to advance racial equity in the NIH HIV research portfolio—by clarifying definitions of SDOH and supporting programs aimed at establishing awareness research methods and evaluation through an SDOH lens.
Implementation research best practices or successful approaches that could be expanded or potentially adapted in new settings include interdisciplinary teams, community engagement, and use of evidence-based interventions that are tailored for each community.
Unexplored approaches to demonstrate the effectiveness of interventions to reduce risk of HIV transmission or improve HIV outcomes in real-world contexts include increased access to syringe services programs (SSPs) and pre-exposure prophylaxis (PrEP) for people who use substances, as well as training for interdisciplinary health professionals, such as pharmacists, on impactful messaging interventions that can be delivered in a variety of settings.
Updates: NIH Advisory Councils, HIV Clinical Guidelines
Monica Gandhi, M.D., M.P.H., Professor of Medicine and Associate Chief, Division of HIV, Infectious Diseases and Global Medicine, Director, UCSF-Gladstone Center for AIDS Research, Medical Director, "Ward 86" HIV Clinic, San Francisco General Hospital
Marguerita Lightfoot, Ph.D., Associate Dean for Research, Oregon Health & Science University and Portland State University School of Public Health
Melanie Ott, M.D., Ph.D., Director, Senior Investigator, Gladstone Institute of Virology and Immunology, Professor of Medicine, University of California, San Francisco
Coretté Byrd, RN, M.S., Health Science Policy Advisor, HIVinfo Program Manager, Office of AIDS Research, NIH
The meeting closed with updates from NIH advisory bodies:
Gandhi reported on the selection of the new Director of the National Institute of Allergy and Infectious Disease (NIAID), Jeanne Marrazzo, M.D., M.P.H., and programs and initiatives underway at NIAID, such as Strategies for Controlled Release of HIV Vaccines (SCORE-H), Engineering Durable HIV Vaccine Responses, Strategies for Eliminating HIV Proteins, and Collaborative Biomedical Research programs with Brazil and South Africa.
Lightfoot reported on five funding opportunities; two new cleared concepts; two sponsored meetings on violence and the HIV care continuum and pharmacy-centered HIV research; a research highlight on the new brain microglia studies that could potentially be a new target for HIV treatment; and the Community Partnerships to Advance Science for Society (ComPASS) initiative, which will leverage structural interventions and multisectoral partnerships to advance health equity research. 
Ott reported on seven funding opportunities and presented data on primary care provider implicit bias, as well as data on stigma toward people with, or vulnerable to, HIV who use drugs, who are less likely to have access to effective preventive treatments like PrEP. 
Byrd noted the approval of 10 new and five reissued cleared concepts since June, as reported to the NIH HIV/AIDS Executive Committee, including concepts from the National Cancer Institute (NCI), the National Institute on Aging, NIAID, the Eunice Kennedy Shriver National Institute of Child Health and Human Development, and NIMHD. 
The HIV Clinical Guidelines Working Groups of OARAC shared updates from the 25th anniversary of the  Guidelines for the Use of Antiretroviral Agents in Adults and Adolescents with HIV and highlighted new sections of the guidelines in progress: HIV and Transplant, and Weight and Adiposity Changes with ART. Updates anticipated in spring 2024 include the following sections: What to Start, Early HIV (acute, recent infection), Older People, Women, HIV-2, Substance Use, Drug-Drug Interactions, and Renal Dosing.
Next Meeting
The next OARAC meeting is scheduled for February 22, 2024; participants will meet virtually. Additional details and an agenda will be made available on the OAR website. OARAC welcomes comments from the public. Members of the public can submit written comments via email to OARACinfo@nih.gov.  
This page last reviewed on November 13, 2023