Acting Director's Biography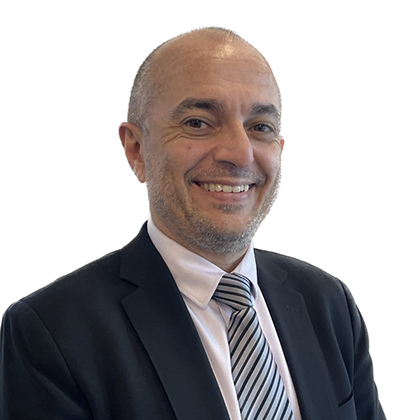 Bill G. Kapogiannis, M.D., FIDSA
Acting Associate Director for AIDS Research
Acting Director of the NIH Office of AIDS Research (OAR)
Bill G. Kapogiannis, M.D., FIDSA, an NIH leader in HIV research for nearly 18 years, is serving as the Acting NIH Associate Director of AIDS Research and Acting Director of OAR while a nationwide search for a new director is conducted. In his role, Dr. Kapogiannis leads OAR in coordinating the NIH HIV research agenda to end the HIV pandemic and improve the health of people with HIV.
Dr. Kapogiannis joined OAR from the Eunice Kennedy Shriver National Institute of Child Health and Human Development (NICHD), where he led the Adolescent Medicine Trials Network for HIV/AIDS Interventions, a multicenter U.S.-based research program that evaluates interventions for treatment and management of HIV infection and its complications among youth, as well as for the prevention of HIV transmission in the adolescent population, including HIV vaccine, microbicide, and pre-exposure prophylaxis (PrEP) studies. At NICHD, Dr. Kapogiannis served as the scientific director of the Prevention and Treatment through a Comprehensive Care Continuum for HIV-Affected Adolescents in Resource-Constrained Settings Consortium, which conducts clinical research at the individual, family, community, structural and education, and health systems levels to improve health outcomes among adolescents with or at risk for HIV. Dr. Kapogiannis created and directed the NIH RADx-rad PreVAIL kIds Program, which is developing cutting-edge approaches for understanding factors influencing the spectrum of conditions in children infected with SARS-CoV-2. He co-directed the pediatric cohort of NIH RECOVER, which aims to understand and address long-COVID in children, adolescents, and young adults.
Dr. Kapogiannis is the Executive Secretary and Editor of the Guidelines for the Prevention and Treatment of Opportunistic Infections in Children with and Exposed to HIV, one of seven sets of federally approved clinical practice guidelines for the prevention and treatment of HIV.
A board-certified infectious disease specialist in pediatrics and internal medicine, Dr. Kapogiannis earned his M.D. from the University of Illinois at Chicago College of Medicine, where he completed his residency in internal medicine/pediatrics. He completed a combined fellowship in infectious diseases in internal medicine and pediatrics at Emory University School of Medicine in Atlanta, Georgia.
This page last reviewed on May 1, 2023