AIDSinfo and infoSIDA Transitioning to OAR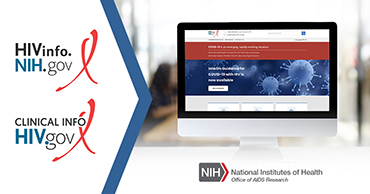 The Office of AIDS Research (OAR) is pleased to announce the transition of the public AIDSinfo.nih.gov and infoSIDA.nih.gov websites and associated HIV/AIDS activities from the National Library of Medicine (NLM) to OAR and the Department of Health and Human Services (HHS) Office of Infectious Disease and HIV/AIDS Policy (OIDP).
The current AIDSinfo.nih.gov and infoSIDA.nih.gov sites will be renamed HIVinfo.nih.gov. OAR will maintain and update the content once the new HIVinfo.nih.gov site goes live on September 14, 2020. 
The HIVinfo.nih.gov and Clinicalinfo.HIV.gov websites will continue to offer access to the latest, federally approved HIV/AIDS clinical treatment and prevention guidelines, as well as other HIV research information for health care providers, researchers, people affected by HIV/AIDS, and the general public. Content available in the Spanish language can be found directly through HIVinfo.NIH.gov/es or from the translation link on the top right corner of the new homepage. 
I want to thank NLM for its years of support for this vital resource. I would also like to thank the Office of AIDS Research Advisory Council (OARAC) HIV Antiretroviral and Opportunistic Infections Guidelines Working Groups, whose work is featured on the site. These guidelines are recommended for use by U.S. health care practitioners and the public.  
Further communications from OAR about the transition is available through our website (https://www.oar.nih.gov/) and official Twitter account (@NIH_OAR).  As always, feel free to reach out to the OAR with any questions or suggestions.
With sincere appreciation,

Maureen M. Goodenow, Ph.D.
Associate Director for AIDS Research and
Director, Office of AIDS Research
National Institutes of Health
This page last reviewed on November 9, 2022