Deputy Director's Biography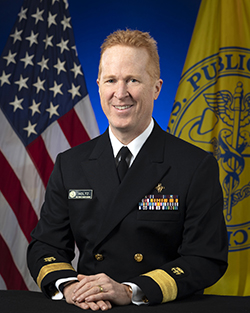 RDML Timothy H. Holtz, MD, MPH, FACP, FACPM
Deputy Director of the Office of AIDS Research
Timothy H. Holtz, MD, MPH, was appointed Deputy Director of the Office of AIDS Research (OAR) at the National Institutes of Health (NIH) in June 2019. As Deputy Director, Dr. Holtz provides scientific leadership including policy development and program management for the NIH HIV research program. He works with the OAR Director to coordinate the NIH HIV/AIDS research agenda; directs the development of the scientific components of the NIH Strategic Plan for AIDS and AIDS-Related Research; participates in and convenes expert panels; and coordinates the development of the $3 billion NIH HIV research budget. Dr. Holtz also serves as the Executive Secretary / Designated Federal Official of the Office of AIDS Research Advisory Committee (OARAC).
In January 2020, the U.S. Commissioned Corps Headquarters, responsible for the administration and response coordination of the U.S. Public Health Service (USPHS), announced the promotion of Dr. Holtz to the rank of Rear Admiral in the Commissioned Corps of the USPHS. As a Commissioned Corps flag officer, Dr. Holtz also has the title and responsibilities of an Assistant Surgeon General in the USPHS.
From 2010–2019, Dr. Holtz served in global HIV and TB prevention and control programs overseas, as a country program director for both CDC's Division of HIV/AIDS Prevention and Division of Global HIV and TB. Most recently, he was stationed in India where he implemented the CDC's President's Emergency Plan for AIDS Relief (PEPFAR) strategic objectives. Dr. Holtz led the development of country program goals, priorities, and prevention research strategies. Prior to serving in India, he was the site Principal Investigator (PI) for the Emory University-Centers for Disease Control and Prevention (CDC) Clinical Trial Unit site in Thailand; the site Investigator of Record of several HIV Prevention Trials Network, and Microbicide Trials Network, research studies; and advised the Thailand Ministry of Public Health on scientific policy decisions and research objectives.
Between 2002–2010, Dr. Holtz served as an epidemiologist and team lead for the CDC's International TB Branch, Division of TB Elimination, working in southern Africa, Eastern Europe, and South America on multidrug-/extensively drug-resistant tuberculosis control and TB/HIV program capacity building.
Dr. Holtz is also an associate professor of global health at Emory University, recognized for authoring/co-authoring over 100 publications (including two global health books), and for being a founding member of Doctors for Global Health, a non-governmental health and human rights organization.
Dr. Holtz received his MD from the University of Iowa Roy J. and Lucille A. Carver College of Medicine and his MPH from The Johns Hopkins University of Public Health. He completed his residency training in internal medicine at Harvard University, with fellowships at the Columbia University College of Physicians and Surgeons and the CDC.
This page last reviewed on September 1, 2023