World AIDS Day 2021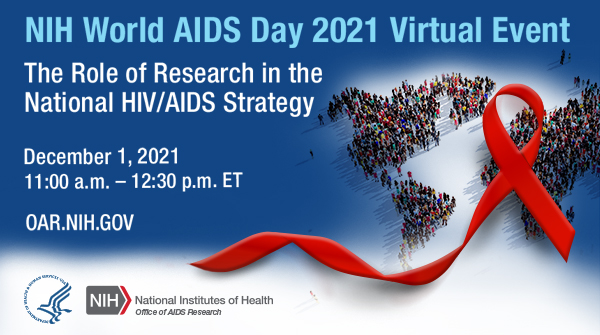 Event Description
The year 2021 marked 40 years since the first reports of the syndrome of diseases later defined as AIDS. Since that time, groundbreaking research has helped turn a once-fatal disease, with effective treatment, into a manageable chronic condition. The National HIV/AIDS Strategy for 2022 to 2025 will highlight the important role of research in continued progress toward ending the HIV pandemic and improving the health of people living with or significantly affected by HIV. These efforts will require robust research collaboration among private, public, and community entities to prevent new HIV infections, accelerate new therapies, and achieve HIV cure. The World AIDS Day event will feature compelling discussions about the next chapter of high-impact HIV research, the types of multisectoral and interdisciplinary partnerships necessary for success, and the integral role of community stakeholders.
Join a distinguished group of participants at the NIH World AIDS Day 2021 virtual event for a live discussion on these topics, including a public question and answer (Q&A) session, as we help mark the global World AIDS Day observance in this momentous year. This event will be broadcast on NIH VideoCast and is open to the public.
Date and Time
NIH World AIDS Day 2021 Virtual Event
VIRTUAL LIVE SESSION
The Role of Research in the National HIV/AIDS Strategy
Wednesday, December 1, 2021, from 11:00 a.m. to 12:30 p.m. ET
Videocast
Go to National Institutes of Health World AIDS Day 2021 on the day of the event to watch the live videocast.
Agenda
Opening Remarks
Congresswoman Barbara Lee
Co-Founder & Co-Chair, Congressional HIV/AIDS Caucus
Harold Phillips, MRP
Director, Office of National AIDS Policy, Domestic Policy Council
Executive Office of the President
Maureen M. Goodenow, PhD
Associate Director for AIDS Research and Director, Office of AIDS Research, NIH
Panel Discussion and Public Q&A
Moderator:
Wafaa El-Sadr, MD, MPH, MPA
University Professor of Epidemiology and Medicine
Director, ICAP at Columbia University
Director, Columbia World Projects
Mathilde Krim-amfAR Chair of Global Health
Columbia University
Panelists:
Rahima Benhabbour, MSc, PhD
Assistant Professor, University of North Carolina_North Carolina State University
Joint Department of Biomedical Engineering
The University of North Carolina Chapel Hill
Gina Brown, RSW
Director of Strategic Partnerships and Community Engagement (SPaCE)
Southern AIDS Coalition
Luis Montaner, DVM, MSc, DPhil
Vice President, Scientific Operations
Kean Family Endowed Chair Professor
Program Leader, HIV-1 Research Program
Editor-in-Chief, Journal of Leukocyte Biology
The Wistar Institute, BEAT-HIV Collaboratory
LaRon E. Nelson, PhD, RN, FNP, FNAP, FNYAM, FAAN
Associate Dean for Global Affairs & Planetary Health
Independence Foundation Associate Professor
Yale School of Nursing
Kathleen E. Squires, MD
Executive Director
Global Clinical Research
Merck & Co.
Blanton S. Tolbert, PhD
Chairperson, NIH Office of AIDS Research Advisory Council
Rudolph and Susan Rense Professor
Department of Chemistry
Vice Dean of Diversity, Equity and Inclusion
Case Western Reserve University School of Medicine
Closing Remarks
RADM Timothy H. Holtz, MD, MPH, FACP, FACPM, Deputy Director, Office of AIDS Research, NIH
Speaker Biographies
Questions
During the World AIDS Day event, viewers are invited to submit questions to the OARmailbox.
Questions will be addressed by the panel as time permits during the Q&A session following the panel discussion.
Social Media Toolkit
Use these resources from NIH and federal partners to raise awareness and spread the word. Feel free to use the sample information in its entirety or tailor the content to meet your organization's style and messaging needs.
This page last reviewed on February 7, 2023