Remembering Dr. Neal Nathanson, Former Director of the NIH Office of AIDS Research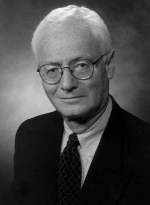 The NIH Office of AIDS Research (OAR) is deeply saddened by the loss of former OAR Director, Neal Nathanson, M.D., on August 11, 2022. The HIV community and larger medical community lost a scientific pioneer and renowned epidemiologist. Dr. Nathanson's contributions to the advancement and study of viral diseases has benefitted many throughout the world. His contributions, mentorship, and collegiality will be long remembered by those with whom he worked, and his legacy will continue through future generations of trainees and colleagues.
Dr. Nathanson joined the Perelman School of Medicine at the University of Pennsylvania in 1979 and served as the Chair of the Microbiology Department. He subsequently served as Associate Dean for Research, Vice Provost for Research, and Director of Global Health Programs. He led definitive research on polio epidemiology and made important contributions to increasing the safety of the early poliovirus vaccines. Dr. Nathanson also spearheaded research on lentiviruses, a genus that includes HIV, the virus which causes AIDS. He was named as the Director of the OAR in 1998 and served in that role until 2000. As OAR director, he advanced the NIH HIV research program by expanding both basic and applied sciences, as well as furthering innovative public health research.
We send our deepest condolences to Dr. Nathanson's family, to our colleagues in the fight to end HIV and other viral diseases in the United States and globally, and to all those who have benefitted from his work. The lives of many will continue to be touched by Dr. Nathanson's inspirational legacy.
Maureen M. Goodenow, Ph.D.
Associate Director for AIDS Research and
Director, Office of AIDS Research
National Institutes of Health
This page last reviewed on September 14, 2022