NIH Statement on World AIDS Day 2022
December 1, 2022
Statement of Anthony S. Fauci, M.D., Director, National Institute of Allergy and Infectious Diseases, and
Maureen M. Goodenow, Ph.D., Associate Director for AIDS Research and Director, Office of AIDS Research, National Institutes of Health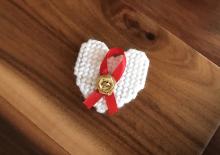 AIDS Awareness Ribbon and Pin of Remembrance. Credit: NIAID
In the 34 years since the first observance of World AIDS Day, transformational progress has been made in the global fight against HIV/AIDS, yet challenges remain. Today, we at the National Institutes of Health reflect on the 40 million lives lost to the disease and renew our commitment to the research necessary to end the global pandemic.  
Innovative research led to the highly effective HIV treatment and prevention modalities available today. However, each year new HIV infections occur at an unacceptably high rate. In 2021, roughly 1.5 million people worldwide, including 160,000 children, were newly infected with HIV, and an estimated 650,000 people died, according to the Joint United Nations Programme on HIV/AIDS (UNAIDS). In the United States, approximately 35,000 new HIV cases are diagnosed each year. Stigma, racism, housing and food insecurity, substance use disorder, and other sociostructural factors serve to place the heaviest HIV burden on marginalized and minority populations, including men who have sex with men, transgender women, people who use drugs, and members of the Black and Hispanic/Latino communities. This year's World AIDS Day theme, Putting Ourselves to the Test: Achieving Equity to End HIV, ties into one of the cornerstones of the National HIV/AIDS Strategy (NHAS)—addressing disparities and health inequities to ensure that HIV prevention and treatment services reach the people who need them most. NIH research plays a major role in the plan's goal of reducing new HIV cases in the United States by 75% in 2025 and by 90% in 2030. 
The global scale-up of life-saving antiretroviral treatments (ART) has led to a 40% reduction in HIV/AIDS mortality since 2010 and, subsequently, has helped reduce HIV transmission. However, too many people who should be on ART are not. Specifically, as of the end of 2021, there were 38.4 million people currently living with HIV and 28.7 million people on ART—a treatment gap of 9.7 million people. Antiretrovirals not only improve and maintain the health of the individual with HIV, but also prevent transmission to others. Global promotion of the "undetectable equals untransmissible," or U=U, benefit of ART has helped raise awareness, but more must be done to ensure that people diagnosed with HIV have access to treatment—as early as possible in their infection—and remain in care. Long-acting ART (cabotegravir plus rilpivirine) delivered via monthly injection offers an alternative to a life-long regimen of daily oral ART that may be preferable for many people. Injectable cabotegravir received FDA approval late last year for pre-exposure prophylaxis (PrEP) based on data from the NIAID-sponsored HPTN 083 and HPTN 084 studies. These clinical trials found that injectable cabotegravir—given as infrequently as six times per year—was more effective at protecting against HIV acquisition than oral ART. Follow-on data from those studies found the protective effect was sustained for as long as 12 months. Hopefully, this approach to protect against HIV infection will be made available to many more people, as oral PrEP has been generally underutilized.  
Broadly neutralizing antibodies (bNAbs) that can neutralize multiple genetically distinct HIV strains represent a potential new strategy for HIV treatment and prevention. Last year, the NIAID-developed VRC01 bNAb delivered intravenously once every eight weeks safely and effectively prevented acquisition of 75% of the HIV strains circulating in the regions of the world where they were tested. This year, a small study conducted by NIAID scientists and their collaborators found that people who began ART during the early stages of their HIV infection achieved a long period of HIV suppression (nearly 40 weeks) without ART after receiving an infusion of two investigational bNAbs. As next-generation antibodies with increased potency and durability are developed, there is hope that infrequently administered bNAbs, possibly with a long-acting injectable ART, could lead to HIV suppression for years, not months. 
Vaccines to prevent HIV infection also remain a focus for the NIH. The Phase 3 Mosaico/HPTN 706 HIV vaccine clinical trial among men who have sex with men and transgender people in the Americas and Europe continues with results expected in 2024. Building on lessons learned from the COVID-19 vaccines, the NIH recently launched the Phase 1 HVTN 302 trial evaluating three investigational HIV vaccine candidates based on a messenger RNA (mRNA) platform. 
On the HIV cure front, the third and fourth documented cases of HIV remission in the absence of ART following a stem cell transplant were made public. Additionally, researchers at NIAID's Vaccine Research Center and their collaborators developed a cutting-edge technology that revealed new insights into HIV cellular reservoirs. This research could lead to new strategies for targeting latent virus. HIV therapies involving the CRISPR gene editing tool also entered early-stage testing in 2022.
There was some encouraging news for people with HIV who had never been vaccinated against or infected with hepatitis B virus (HBV). People living with HIV, including those on ART, are at greater risk of liver-related illness and death when co-infected with HBV. The ongoing, NIAID-sponsored ACTG A5379 study found that a three-dose course of the HEPLISAV-B hepatitis B vaccine resulted in significant levels of protection for study participants. 
These examples are illustrative of the many ways in which NIH HIV/AIDS research—which represents the largest public investment in HIV/AIDS research in the world and crosses more than 21 NIH institutes, centers, and offices—continues to lead to groundbreaking innovations in HIV diagnosis, treatment, prevention, and cure. The critical role of research in the federal response to ending the HIV pandemic is highlighted by its prominent role in the White House NHAS and its accompanying Federal Implementation Plan. Partnerships with people with HIV and the community organizations that support them continue to strengthen this work through initiatives, such as listening sessions conducted by the Office of AIDS Research, to obtain feedback on HIV research priorities.
As the world continues to respond to the COVID-19 pandemic, the pandemic's early negative effects on the HIV community became clear: there were fewer new HIV diagnoses, and a reduced number of people began ART in 2020 compared to earlier years due to disruptions, shortages in materials for HIV tests and hesitancy to access healthcare. Similar impacts occurred with tuberculosis (TB) diagnosis and treatment resulting in an increase in TB deaths among people with HIV in 2020. Unfortunately, the mpox outbreak of 2022 also had a considerable impact on the HIV community. According to the Centers for Disease Control and Prevention, 40% of people diagnosed with mpox in the United States were people living with HIV. It is not clear whether having HIV increases the likelihood of becoming ill with mpox if exposed to the virus; however, the CDC recommends mpox vaccination for anyone exposed to or at risk for mpox disease.
A personal note from Dr. Fauci: As I step away from my long-time role at NIAID and government service, I want to thank all the scientists, health care professionals, policymakers, advocates and clinical trial participants who have made the remarkable accomplishments in HIV/AIDS science possible. It is because of your many years of dedication, hard work and selfless contributions that a once-certain death sentence has become for many, a manageable disease. It has been my honor and privilege to work with you. The NIH will continue to collaborate on the important research needed to improve the health of those with HIV, prevent new infections and achieve a lasting end to the HIV/AIDS pandemic. 
A personal note from Dr. Goodenow: On behalf of the NIH HIV/AIDS research community, thank you, Dr. Fauci, for your extraordinary leadership, vision and contributions to the field of HIV/AIDS research throughout your career. From many roles—founding director of the NIH Office of AIDS Research, an architect of landmark and truly innovative initiatives, such as the United States President's Emergency Plan for AIDS Relief (PEPFAR), the steward of NIAID's extensive HIV/AIDS research activities, and more—you have led the progress made toward ending this global pandemic. The NIH, the broader global research community and all those whose lives have been touched by HIV are stronger because of your contributions. We wish you well as you embark on your next chapter.
Anthony S. Fauci, M.D., is Director of the National Institute of Allergy and Infectious Diseases at the National Institutes of Health in Bethesda, Maryland. Maureen M. Goodenow, Ph.D., is Associate Director for AIDS Research and Director, NIH Office of AIDS Research.
This page last reviewed on March 15, 2023