National HIV/AIDS & Aging Awareness Day
Each year on September 18, researchers, health care providers, and other communities and organizations around the country observe National HIV/AIDS and Aging Awareness Day (NHAAD). Established in 2008 by the AIDS Institute, NHAAD raises awareness to the challenges faced by aging populations who live with HIV, which include: HIV prevention, treatment and care; and HIV-related comorbidities, coinfections, and other complications (CCC).
Since the discovery of effective antiretroviral therapy (ART), people with HIV are living longer and healthier lives. However, as they age, people with HIV are at greater risk of developing chronic illnesses than people without HIV of similar age. Although antiretroviral therapy is critical to treatment, current ART regimens can lead to harmful side effects, interactions with other medications, drug resistance, and other complications.
In recognition of these challenges, the National Institutes of Health (NIH) established within its overarching HIV research priorities a plan to conduct research to bolster the scientific understanding of CCC and to improve the health outcomes of people with HIV across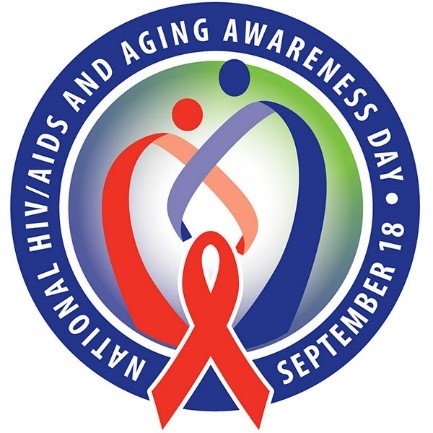 the lifespan. This is particularly important because some infections are more common in aging populations of people with HIV including tuberculosis (TB), hepatitis B and C, human papillomavirus (HPV), and other sexually transmitted infections, which are conditions that may be affected by HIV treatment. For example, research has found that TB interacts with HIV and complicates the treatment outcomes for both diseases. Other diseases of the cardiovascular system, kidneys, liver, cognitive function, malignancies, and metabolic bone disease also appear to be more common among people with HIV.
Although older people have many of the same risk factors for HIV infection as younger individuals, they face some unique challenges including: (1) women past childbearing age are less likely to practice safer sex with condoms, (2) age-related thinning and dryness of vaginal tissue can raise older women's risk for HIV infection, (3) older people are less likely than younger people to discuss their sexual or drug use behaviors with their doctors, and (4) doctors are not as likely to ask older patients about these health behaviors.
It is essential that we work together to raise awareness to ensure that older adults understand that HIV prevention and testing remain relevant even as they age. This is particularly important for older adults who are at risk or living with HIV, because early diagnosis and enrollment in care are critical to initiating lifesaving treatments and improving overall health.
According to the Centers for Disease Control and Prevention (CDC), nearly half of the people in the United States living with diagnosed HIV are aged 50 and older. Even though new HIV diagnoses are declining among people aged 50 and older, about 1 in 6 HIV diagnoses in 2016 were in this group. The same year, 35% of people aged 50 and older already had late-stage infection (AIDS) when they received an HIV diagnosis , increasing challenges to treat and control the virus.
The relationship between aging and the health deterioration for people with HIV has been a longstanding public health concern, and the Office of AIDS Research (OAR) keeps this research priority at the top of the NIH HIV research agenda. For example, OAR works with the National Institute on Aging (NIA) to support research aimed at understanding the neurodegenerative processes that contribute to central nervous system impairment in older adults with HIV. Through this collaborative approach in 2018, the NIA funded cross-disciplinary research projects to study the similarities and differences between the mental and physical declines observed in Alzheimer's disease and HIV-associated neurocognitive disorders.
More research is necessary to further develop our understanding of the relationships between aging with HIV, treatments for people with HIV, and HIV-related comorbidities, coinfections, and other complications. OAR remains committed to pursuing this research and to working collaboratively with stakeholders across the NIH, in academia, and in the community to improve the lives of all those at risk for, impacted by, and living with HIV.
Maureen M. Goodenow, Ph.D.
Associate Director for AIDS Research and
Director, Office of AIDS Research
National Institutes of Health
1 HIV Among People Aged 50 and Older, Centers for Disease Control and Prevention https://www.cdc.gov/hiv/group/age/olderamericans/index.html.
This page last reviewed on November 3, 2022