Letters from the Director: A New Plan to End the HIV Epidemic in the United States
During the State of the Union Address in February 2019, the President announced the administration's ambitious goal to end the HIV epidemic in the United States by 2030. Nearly four decades of investments in scientific research have yielded prevention and treatment breakthroughs that now make it possible to control HIV infection. A coordinated effort across government agencies promises to provide additional expertise, technology, and resources where they are needed most. The U.S. Department of Health and Human Services announced goals of reducing new infections in the United States by 75 percent within five years and by 90 percent within 10 years.
The initiative calls for the implementation of strategies to:
Provide an early diagnosis for all individuals with HIV.
Treat HIV infection rapidly and effectively to achieve sustained viral suppression.
Protect at-risk individuals from acquiring HIV infection using proven interventions, including pre-exposure prophylaxis (PrEP).
Rapidly detect and take action on emerging HIV clusters and prevent new infections.
More than 700,000 people in the United States have died from AIDS-related causes since the disease first was identified in 1981. Currently, 1.1 million people across the country are living with HIV and nearly 40,000 new infections are diagnosed annually.1 In 2016 and 2017, half of new HIV diagnoses were found in 48 counties across the U.S., Washington, DC, and San Juan, Puerto Rico.2 Seven states also bear a disproportionate share of new HIV infections in rural areas. The initiative will leverage scientific discoveries with programs and infrastructure of the National Institutes of Health, the Health Resources and Services Administration, the Substance Abuse and Mental Health Services Administration, and the Indian Health Service. The federal government will partner with local and state public health agencies and health care facilities to reach and serve the populations most affected within these HIV "hotspots."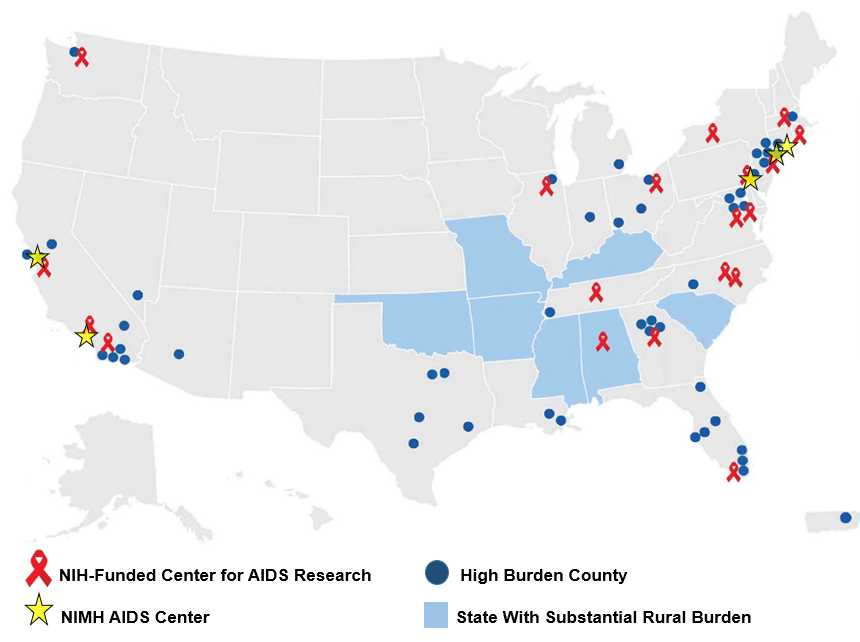 The initiative will target resources to the 48 highest burden counties, Washington D.C., San Juan, PR, and 7 states with substantial rural HIV burden.
Source: https://www.hiv.gov/federal-response/ending-the-hiv-epidemic/overview
I encourage you to read more about the federal response to ending the epidemic by reviewing the editorial "Ending the HIV Epidemic: A Plan for the United States," published in the Journal of the American Medical Association and available online here.
Scientific breakthroughs, such as the discovery of medications known as antiretroviral therapies (ART) have allowed people with HIV to live healthier, longer lives. Robust clinical studies have shown that people with HIV who take ART as prescribed and achieve and maintain viral suppression stay healthy and do not sexually transmit HIV to their partners, a principle known as Undetectable = Untransmittable3 or U = U. This modality provides additional incentives for people with HIV to begin and stay on ART. U = U bridges biomedical science with behavioral and social science by removing the fear and guilt that people with HIV feel about potentially harming a sexual partner. It also relieves the self-imposed and external stigma that many people with HIV face.
Research also has led to the development of preexposure prophylaxis (PrEP), which prevents infection in people at risk of acquiring HIV. Scaling up the availability, distribution, and adherence to PrEP will be critical in reducing new infections.
Although we have achieved many scientific breakthroughs in the last three decades, more work is required to stop HIV. The Office of AIDS Research is actively engaged in supporting the new plan to end the HIV epidemic in the U.S. and looks forward to continued collaboration with its partners to end this dreadful epidemic.
Sincerely,
Maureen M. Goodenow, Ph.D.
Associate Director for AIDS Research and
Director, Office of AIDS Research
National Institutes of Health
1 Centers for Disease Control and Prevention. Updated November 2018. "HIV/AIDS Basic Statistics." Available at www.cdc.gov/hiv/basics/statistics.html.
2 Department of Health and Human Services, Centers for Disease Control and Prevention. Updated February 2019. "HIV Surveillance Report 2017." Available at https://www.cdc.gov/hiv/library/reports/hiv-surveillance.html.
3 Eisinger RW, Dieffenbach CW, Fauci, AS. HIV Viral Load and Transmissibility of HIV Infection: Undetectable Equals Untransmissible. JAMA. 2019;321(5):451-452. Available at jamanetwork.com/journals/jama/article-abstract/2720997.
This page last reviewed on November 3, 2022