Letters from the Director: Long-Acting Injectable Regimen Prevents HIV Acquisition in Cisgender Women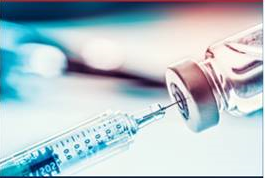 On Monday November 9, 2020, the National Institutes of Health (NIH) National Institute of Allergy and Infectious Diseases (NIAID) announced good news for women regarding HIV prevention options. Findings from the HIV Prevention Trials Network (HPTN) 084 study showed that an investigational long-acting form of the HIV drug cabotegravir, injected once every 8 weeks, was safe and superior to a daily oral pre-exposure prophylaxis (PrEP) regimen at preventing HIV acquisition among a group of African cisgender women. While the injectable regimen was found to be superior, the overall low incidence rate of HIV infections during the study clearly demonstrates that both drugs were highly effective at preventing HIV acquisition.
On November 5, 2020, an independent data and safety monitoring board (DSMB) overseeing the trial determined that the study indicated the long-acting injectable cabotegravir had superior efficacy to tenofovir/emtricitabine at preventing HIV in the study population. In response to these findings, the DSMB recommended that NIAID discontinue a phase of the trial and share these results.
HPTN 084 was launched in late 2017 and enrolled over 3,000 women, ranging in age from 18 to 45, in 20 clinical research sites in sub-Saharan Africa. Participants received either injections of cabotegravir every 8 weeks and placebo daily oral tablets or placebo injections every 8 weeks and daily oral tenofovir/emtricitabine.
These promising results for women build on findings announced earlier this year from a companion HPTN 083 study. The HPTN 083 study demonstrated that the long-acting injectable cabotegravir was superior to daily oral PrEP at preventing HIV among cisgender men and transgender women who have sex with men.
PrEP is a strategy in which healthy people use antiretroviral drugs to reduce their risk of getting HIV. Only one PrEP medication, a daily oral pill (tenofovir/emtricitabine, brand name Truvada®), is currently approved by the U.S. Food and Drug Administration for cisgender women at risk of acquiring HIV. Although the oral pill is highly effective when taken as prescribed, maintaining a daily regimen can pose challenges. Development of a long-acting prevention option, such as the injectable HIV drug cabotegravir, may help to overcome barriers and challenges to HIV prevention.
HIV poses unique challenges for women. For example, in this study of cisgender women, some may be unaware of their male partner's risk factors for HIV and may not use barrier or other protection, putting them at a higher risk for contracting HIV. The HPTN 084 findings contribute to the development of new PrEP options for women that may be more compatible with certain lifestyles and empower women to reduce their HIV risk without having to rely on negotiation of prevention methods with their male sex partners.
Globally, women remain at significant risk for HIV. Approximately 5,500 young women ages 15 to 24 become infected with HIV every week; in sub-Saharan Africa, women in this age group are twice as likely to have HIV as men of the same age1. In the United States and dependent areas, 19 percent of the 37,832 new HIV diagnoses in 2018 were among women.2
HPTN 084 is a key example of the expanded inclusion of women in health research as required by the 21st Century Cures Act.3 Not so long ago, women of childbearing years were effectively excluded from clinical trials. However, the clinical research community now knows that efficacy in men does not always translate into efficacy for women.
The NIH Office of AIDS Research commends all research partners and participants for their dedication to this study, which has yielded a potential new pathway for women around the world to reduce their risk for HIV.
To learn more about the HPTN 084 study, I encourage you to read the NIAID news release NIH Study Finds Long-Acting Injectable Drug Prevents HIV Acquisition in Cisgender Women and the HPTN press release HPTN 084 Study Demonstrates Superiority of CAB LA to Oral FTC/TDF for the Prevention of HIV. For more details about the HPTN 084 and HPTN 083 studies, visit clinicaltrials.gov and use the identifiers NCT03164564 and NCT02720094, respectively.
Maureen M. Goodenow, Ph.D.
Associate Director for AIDS Research and
Director, Office of AIDS Research
National Institutes of Health
---
1 Joint United Nations Programme on HIV/AIDS (UNAIDS). 2019. Fact Sheet. "Global HIV & AIDS Statistics—2020 Fact Sheet." Available at www.unaids.org/en/resources/fact-sheet.
2 Centers for Disease Control and Prevention, HIV and Women. Available at https://www.cdc.gov/hiv/group/gender/women/index.html.
3 Congress.gov. H.R.34 – 21st Century Cures Act, 114th Congress (2015–2016).
This page last reviewed on November 3, 2022