Letters from the Director: FY 2021 NIH HIV/AIDS Professional Judgment Budget: Catalyzing Partnerships for HIV Prevention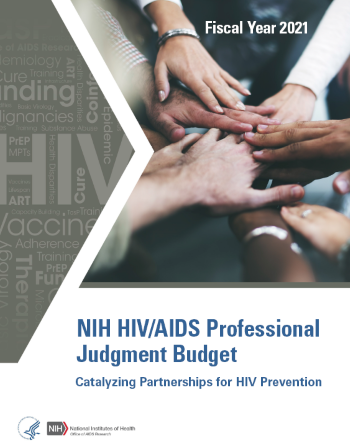 On August 4, 2020, the National Institutes of Health (NIH) Office of AIDS Research (OAR) released the Fiscal Year (FY) 2021 NIH HIV/AIDS Professional Judgment Budget: Catalyzing Partnerships for HIV Prevention. Guided by the goals and strategies put forth in the FY 2021-2025 NIH Strategic Plan for HIV and HIV-Related Research, and as authorized by Congress in the NIH Revitalization Act of 1993,1 the OAR develops the Professional Judgment Budget annually to highlight the accomplishments and progress in HIV research during the prior year and to identify opportunities for additional investment to accelerate critical research.
For FY 2021, the NIH HIV/AIDS Professional Judgment Budget requests $769 million in additional funds, a 25-percent increase that would result in a $3.845 billion public HIV/AIDS research investment. This level of funding will expedite NIH efforts to pursue emerging areas of HIV science, explore promising vaccine and other prevention approaches, catalyze partnerships and collaborations, and regain research momentum lost due to the COVID-19 pandemic.
The NIH HIV/AIDS Professional Judgment Budget is based on current research opportunities and scientific gaps, as determined by internal and external stakeholders, and supports a robust research program that is responsive to the challenges and priorities associated with the NIH HIV research agenda. The FY 2021 Professional Judgment Budget has been structured to—
Capitalize on advances such as the recent finding from the HIV Prevention Trials Network study, HPTN 083, that an investigational long-acting form of the injectable drug cabotegravir is highly effective for the prevention of HIV infection in cisgender men and transgender women who have sex with men;
Fund new research on the susceptibility of persons with HIV to COVID-19 infection, disease sequelae, and recovery;
Invest in reactivation of the research enterprise disruption following mitigation strategies for the COVID-19 pandemic;
Focus on the Ending the HIV Epidemic: A Plan for America goal of a 90-percent reduction in the number of new HIV infections in the United States by 2030;
Account for the increased loss of research spending power;
Encourage innovative technology approaches, including 3-D printing, artificial intelligence, advanced bioinformatics, genetics, big data mining, and geospatial modeling for advanced discovery;
Alleviate individual, community, and social-structural factors influencing (1) inequalities in HIV testing; (2) engagement, adherence, and persistence with prevention and care services; and (3) health outcomes in different settings; and
Address both intramural and extramural HIV/AIDS research, as well as funding for research facilities and infrastructure, research training, and program evaluation.
Since the discovery more than 30 years ago that HIV was the virus causing AIDS, HIV infection has been transformed from a rapidly fatal condition to a manageable chronic illness. This is largely due to the significant NIH investment in scientific research that led to the development of safe, effective antiretroviral medications that extend the lifespan of persons with HIV and effective interventions that prevent HIV transmission and acquisition. Despite this extraordinary progress, the HIV pandemic is not under control. Globally, there are approximately 37.9 million persons with HIV. In some regions, the level of infection is catastrophic, with significant variability in treatment coverage.2 In America, an estimated 38,000 new HIV infections still occur annually.3
To end the pandemic, the NIH and OAR must continue to leverage partnerships and build collaborations to produce scientific discoveries that will benefit the millions of people affected by, at risk of, or living with HIV. Through these enhanced networks, we will establish new opportunities to implement and advance the strategies in our prevention toolbox and develop a safe, scalable and effective vaccine.
I encourage you to review the FY 2021 NIH HIV/AIDS Professional Judgment Budget: Catalyzing Partnerships for HIV Prevention, available here on OAR's website.
Maureen M. Goodenow, Ph.D.
Associate Director for AIDS Research and
Director, Office of AIDS Research
National Institutes of Health
1 National Institutes of Health Revitalization Act of 1993. Available at www.congress.gov/bill/103rd-congress/senate-bill/1.
2 Joint United Nations Programme on HIV/AIDS (UNAIDS). 2019. Fact Sheet. "Global HIV & AIDS Statistics—2019 Fact Sheet." Available at www.unaids.org/en/resources/fact-sheet.
3 HIV.gov. 2020. "U.S. Statistics." www.hiv.gov/hiv-basics/overview/data-and-trends/statistics. Accessed April 30, 2020.
This page last reviewed on November 3, 2022